'Me and My White Skeleton'
reflections by Afro-Portuguese Angela Guerreiro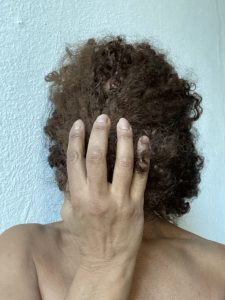 'Me and my white skeleton' is a proposal towards the awareness of black bodies as such, not as the other or the otherness, not as an alienated body, but as a way to conquer bodily space and contour. Bringing Kinesthesia, proprioception and cellular intelligence (Bonnie Bainbridge Cohen) into play. This research reflects about daily racism through a personal view, within a somatic context and it attempts to foster communication, attention and a deeper reflection about the awareness of the other as such. Can somatic practices become a political practice? Can we reflect about body/mind alienation?
There is a lot to be done worldwide. Let's start telling everybody, that beyond our ethnicity, skin color, religion, race supremacy all living bodies share the same white skeleton, bone and marrow, cells, muscles, fluids such as blood, glands, nerves, ligaments, organs, a skull that contains a brain, and a mind, soul and spirit and even the same skin, our largest organ. A strong impact in our living organisms is our interrelationships, our environment, how we grow up, our social interactions, our peer groups. These are major aspects that build what we are and influences on why, what and how we think and behave. 
On her text about the decolonization of the body, Pasquale Virginie Rotter writes, "Gestures, contexts and experiences of violence of those (colonial-)racist representations of our bodies are inscribed in them – together with the experiences of violence experienced directly and directly on our own bodies. We find ourselves in every message about a Person of Color who experiences racist violence, in every fresco of a black person above the pharmacy, in every fundraising campaign with People of Color. Like a mirror appearing repeatedly, screaming and lying. Imitating learning processes in childhood and adolescence led to involuntary repetitions of these gestures. The conscious or intuitive decision to become and be exactly as the white eye sees us was often the only way to get through or survive. Often the connections to our own gestures, our own body sensations and our own images were lost and overwritten." 1
'Me and my white skeleton' received a scholarship for research in 2020 by the Munich Cultural Department. Lecture-performance presentations May 2021, Halle 6, Munich.
1 'Die Dekolonisierung des Körpers' by Pasquale Virginie Rotter. Südwind-Magazin. Translated for this text with www.DeepL.com/Translator.